WORK PROCESS
When you commission a portrait in oil please allow at least 2 - 4 + weeks (depending on size) turnaround time.

I generally work from photo reference, for example if you have a specific photo you would like translated into a painting. I can also work from multiple images, if you don't have that one perfect shot, to get the best lighting and close up details possible. If you are in the Reno area I can meet your pet or horse and take my own reference photos. This way I can see the actual coloring in neutral light and take shots from the desired angle. If you are further away travel arrangements can be made and travel costs would be added to the price of the commission.

Next, you choose the background you would like. It can be a plain color or loosely suggested background to focus on your pet. Of course we can keep the background from your photo reference (often slightly altered to perfect the view) or you can choose a particular setting - for example a favorite place in your home, out on the prairie, a renaissance landscape, or a background taken from a famous painting.

Finally you decide on the size. For horses the rule of thumb is to go with the biggest size your budget will allow especially if it is a full body portrait to maximize the impact of the painting.

Now I can start painting. If the portrait is not an exact copy of your photo I will email you a sketch of the layout for your approval. When it is finished, the oil paint has to dry 1-2 weeks before I can varnish the painting. I use a breathable varnish which means the paint can keep drying while it is protected from dust and UV rays by the varnish. It will also boost colors and enhance the values in the painting.

PRICES
Portrait prices depend on the size of the painting, the medium used (oil is the default), portrait type (head, 3/4 or full body view) and type of background (amount of detail). As a reference point, portraits start at size 8"x 10", head view with plain background (i.e. Mato above) for US $ 820.-.

I also offer:
"Great-Gift-Portraits", size 5"x 7" for $ 320.- from photo provided.
"Memorial-Portraits", size 3"x 4" for $ 180.- from photo provided.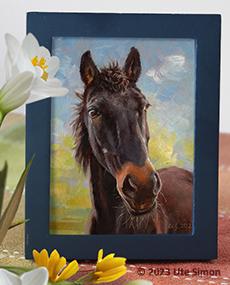 Please email or call to get an estimate for exactly the painting or drawing you have in mind. The paintings are sold without a frame.
I ask for 25% as a retainer and prefer payment via PayPal, Zelle or check.



SATISFACTION GUARANTEE


I believe in the 100% satisfaction guarantee. I have yet to have an unhappy client, but if for some reason you are not thrilled with the result of your portrait, I will return your retainer.



GIFT CERTIFICATES


I offer personalized portrait gift certificates.

MORE WORK


You can view more of my work in different fields of illustration and fine art on my illustration website at www.illustratrix.com.